July 6th, 2011 by KP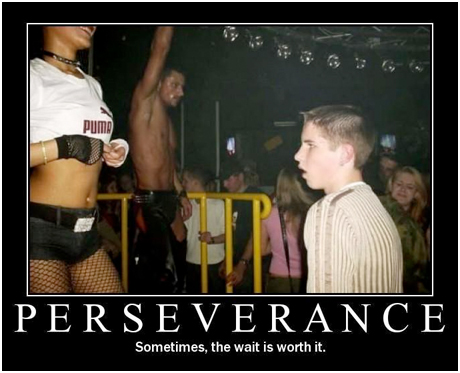 Don't Let Your Lens Of Life Lose Focus.
I was at dinner with Jim & Anthony the other night, and we had some good talks about business & getting focused on priorities.
It's tough to keep your head on straight & clear when everyone around you is living the high life & out doing fun shit, and you have to say no to it. It is tough, but it's necessary. With us focusing on business & goals, like I said in one of my last posts, progress requires sacrifice. You have to always be focusing on the long term over short term. The short term is what most people chase, because you get almost immediate gratification from it, but the gratification is almost all of the time short lived too. Where as when you focus on the long term, this is what brings you the long term gratification and sustained happiness, rather than the short term happiness.
What I mean by this, is don't let anyone knock you off course.
We were at Coachella this year, and after getting to sleep at 7am on Friday (well Saturday morning), for some reason I woke up 2 hours later at 9am and couldn't sleep. So I went in the living room of the house we were staying at with everyone (about 10 of us were staying at this mansion, right across the street from Coachella literally walking distance!) got my laptop out and started replying to emails and getting on with some work.
There was me thinking everyone was asleep, but no surprise when Aaron comes walking in to the living room, hasn't even slept yet and is up on his own lol.
He goes (in his aussie accent): "Mate what the fuck are you doing up?"
Me: "I can't sleep so just getting on with some work"
Aaron" "Mate, you remind me of me. Let me tell you something, when I was your age everyone was telling me I was young & that I worked too much, that I need to let loose & live life up more. These are meant to be the best years of your life. I'm sure people say the same to you. Don't fucking listen to any of them mate, just listen to yourself. Know the path you're on, keep your head down & keep moving. Keep your head down for a few years of solid hard work, and life gets really fucking good mate. It's all so worth it in the long run. Yes there's a lot of work in the initial phase, but my life is amazing now, and every day for the past 8 years has got better and better. I can't explain to you how much I love everyday of my life even more than the day before. Very very few people are willing to sacrifice the good times upfront in the short term, because they're uncertain they'll succeed, and they're afraid they'll "miss out". What they don't know, is sacrificing the short term now only leads to reaping the good times in the long run, and the long term gratification of living life is a billion times more rewarding than the short term. Difference between short term & long term, the short term rewards are short lived, long term rewards are long lived. They are consistently amazing. You're doing it right mate, I'd tell you if you weren't. Stay at it mate, listen to you, don't listen to anyone else or let anyone knock you off track. Alright, now I'm off to bed." (Aaron's normal sleep hours are 9.30am -11.30am or so lol)
Aaron's a really big mentor in my life, one of the most successful people I know & truly living Supernova, he's living the life. Ferrari, sickest house in LA, most amazing social circle in the mecca of cities to make it big in the world. And he's only 30. So that talk coming from him meant a lot.
It is hard to stay on track when you see EVERYONE you know living the high life, while you have to tell yourself everyday to keep focused on the long term & stay on track. Especially when it's available to you, all you have to do is say yes and fall in to the fun. And the fun times feel so good, it's so hard to resist. But that talk with Aaron, I play it over in my head again & again everyday. I told Jim the same story while we were at Aaron's that day (watching every 4th July firework show in the South Cali area from Aaron's house at the top of the hollywood hills, his view is literally a panoramic view of LA, from Malibu to South Bay, Santa Monica to downtown, it's nuts there were fireworks going off everywhere you looked!)
After the three of us talking at Aaron's and at dinner, Jim summed up everything by saying –
"Basically, what you have to do, is just not let yourself get caught up in everyone else's shit."
No matter how much fun it may seem, if you want to get the long term success as fast as possible, you can't let anyone knock you off course. You have to stay true to yourself, and you can't let your lens of life lose focus of who you are and what you're striving for.
Jim said "I will carry mountains if I have to, as long as I'm still going to get to where I need to be."
Basically nothing's going to stop him getting to where he needs to go. And that's the mindset you have to keep carved in stone in your mind.
The way to approach any goal, stay focused, stay on track, stay true to yourself and don't let yourself get caught up in anyone else's shit. If something needs to be done, don't wait for someone else to do it, don't complain, don't think you're unlucky for having to do it or got dealt a bad hand in life. Want to know something? Life is fucking hard when you're trying to make it. Fact. The people who sit & complain that they got a bad hand in life, that they're hard done by, don't realise that EVERYONE gets dealt shit hands in the game of life! Everyone is hard done by!!!
FUCKING GET OVER IT!!!
No complaining, that' life. Just do what needs to be done. That's it, just do what needs to be done & there's nothing else to it. Something needs to be done? Life knocks you down a peg & it feels like you've been dealt a bad hand? You feel like you're hard done by? Welcome to real life. Get up, figure what the next step forward is, and get to it. Don't let ANYTHING OR ANYONE knock you off course.
You're the only person that has the ability to do that.
Til next time, suck it easy.
KP