June 27th, 2011 by KP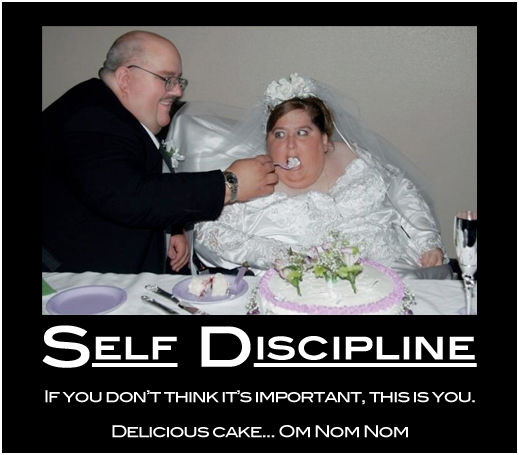 Self discipline is more important than anything else when it comes to your success.
I've been going through Brian Tracy's self-discipline program, and if you're wondering if it's any good or not, it's big fuckin titties.
Self-discipline is your ability to make yourself do, what you should do, when you should to do it, whether you want to do it or not. It is the key to success. Going back to my post the other day on "Progress Requires Sacrifice", self-discipline is essentially having full mastery of your emotions where you decide what you want to do, rather than letting your emotions decide what you do.
The last couple years of hard grind & commitment to business have put us through an emotional roller-coaster, but when you finish the ride, or you decide to ride it again, emotionally you are forged like steel on the inside, and you stand unaffected when things seem bad.
It is the most common personality trait / characteristic I have noticed among the most successful people that I know after spending a lot of time around them, their sickening self discipline & the ability to do what they need to do, when they need to do it, whether they want to do it or not is the obvious secret to their success.
Except most people hope for it to be something else that makes people successful, they look for the quick & easy fix. But there is no magic bullet, no magic pill, no secret, other than a sickening habit of self-discipline. That is the secret to success.
I've always had good self discipline, but now I've been focusing consciously on forming that habit of self discipline, it's getting easier everyday and outstanding self-discipline is becoming who I am, rather than something I have force myself to practice. I can feel it, and it is empowering.
Not only does it get easier as the habit is formed, it also compounds, where you might start to get more disciplined in your business area of life, suddenly your ability to get up & go to the gym when you don't feel like it even though you know you should gets easier too. So it affects all areas of your life.
Self discipline is essentially self control & self mastery.
When you practice self-discipline, you respect yourself more & your self-esteem goes up.
Your image improves & you see yourself as a better person when you take control of yourself and do what you know you should do, for the long-term gain, rather than doing what you want to do for the short term gratification.
I'm making it sound easy.
Don't get me wrong, it is FUCKING HARD to form the habit of self-discipline! If it was easy to go against our emotions, and we did what we know we had to do, when we needed to do it, whether we wanted to or not, all of the time, we would be evolving at an astronomical rate as a human race! It is easy to see how the statistic – the average human uses just 10% of their brain's mental capacity is true when you really start to work on yourself & your 'inner game', you amaze yourself with the cognitive ability and mental capacity your brain has when it is tested.
Self-discipline is a habit that you can learn with practice & repetition. Do something over & over again, whether you want to or not, and eventually you create a habit.
The difference between successful people & unsuccssful people are their habits. Succussful people have success habits, unsuccessful people have non-success habits. The #1 habit of successful people is the ability of doing what they know they should do, when they need to do it.
Successful people make a habit of doing what unsuccessful people don't like to do. The ironic thing, is that successful people don't like to do the same thing unsuccessful people don't like to do, but they make a habit of doing it anyway because they recognise that it is the price for success
Everything is hard before it is easy. Fact.
Accept that, or be forever fucked in the world of limbo where you wait for something spectacular to be handed to you on a plate.
It only takes about 21 days to break an old habit and create a new one. So practice self-discipline everyday, for just 21 days. Be willing to pay the price in the present, to reap & enjoy the rewards in the future. LONG-TERM OVER SHORT-TERM!!!
More to come in Self-Discipline: The Key To Success – Part II (I'll be writing up & posting it soon)
The one & only,
KP