June 28th, 2011 by KP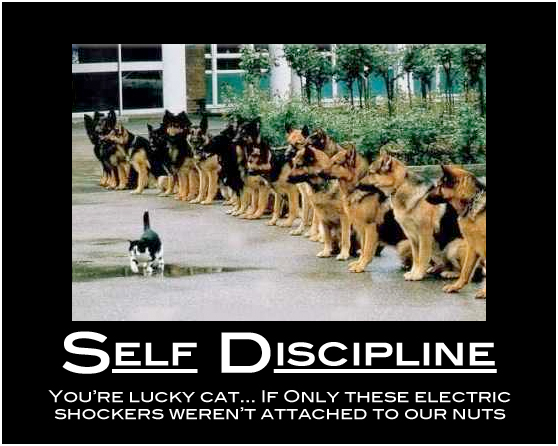 After my last post, "self-discipline – the keys to success part I", I wanted to follow up with this.
There are 9 key disciplines to overall self-discipline.
Discipline #1: Clear Thinking
Any problem you have in life, go and sit somewhere in solitude with NO distractions whatsoever for 30-60 minutes. Then, almost like a miracle the answer(s) will come to you. Like when a bucket of water with silt in is swished around, after a while, all the silt sinks to the bottom & the water is now clear. Its the same with your mind, do the same thing to get it clear so you can think straight & decide how to act correctly. Take 60 minutes & just sit still & think.
The small voice you always hear will now shout so loudly you will be amazed you didn't hear it before when it seemed so quiet. Now all the silt has set, you can hear it again.
"Think on paper", write everything down. The most amazing things happen between the head & the hand. The subconscious will provide the solution.
Discipline #2: Daily Goal Setting
Focus & concentration are essential for success. If you cannot focus or concentrate, then you have to work for someone else or under someone else that will MAKE you focus & concentrate.
Focus & concentration are both habits you can practice with self discipline. Ask yourself what you would do right now if you had $10million and just 10 years to live.
Write down 10 goals you want to achieve in the next 12 months. Write them down as if they already existed in the present & personal (I earn, I drive, I acquire etc) tense – and add "by (deadline date)" to the end of each goal.
E.g. I earn $1,000,000 by December 3rd
Write down you goals every morning without looking at yesterday's goals.
Discipline #3: Daily Time Management
Every minute spent in planning saves 10mins in execution. Plan your day before you begin. If you're not following a plan you're reacting to whatever's going on.
It gives you a track to run on. It's best to do this night before. "Write it down before you begin."
Prioritize your list in to – A task is a must do, B task is a should do, C task is a nice task to do. Never do a b before an a task, discipline yourself not to do things that are low value. D tasks are delegate to someone else. E tasks are eliminate – they don't matter,
A1 (most important), A2, A3, B1, B2… etc
Discipline yourself to focus on your A1 task until 100% completion before doing any of your other tasks or anything else. When you can demonstrate each morning that you have the self control, self mastery, self discipline to start & complete your most important task, it makes you feel powerful
Discipline #4: Courage
FORCE YOURSELF to do what you know you should do, ALL OF THE TIME.
No excuses.
Aristotle said, " If you desire to have a quality that you don't have, you must act in every instance where the quality is called for, and you will have it"
Ralph Waldo Emberson said, "Do the thing you fear, & the death of fear is certain"
Discipline #5: Excellent health habits
Design your perfect body, make a list of what you want your body like, cut pictures out of magazines of how you want your body to look.
Get up & do some exercise, whatever it is, your body will continue to burn calories all day, your brain will have highly oxygenated blood first thing in the morning.
Untold amounts of highly successful people get up at 5am/530am & go & workout to start their day. When you exercise in the morning, your brain releases endorphins, which make you feel good, and you start your day strong.
Eliminate the 3 white poisons, flour, sugar, salt. Its that easy.
Drink 8 glasses of water a day to flush all the crap & toxins out of your body.
Eat more salads & eat more fruit & veg. 70% of your diet should be fruits & vegetables.
Discipline #6: Regular Saving & Investing
Resolve to get out of debt & stay out of debt.
Re-wire yourself – instead of thinking 'I like spending money' change it to 'I like saving money'. Think about how much you enjoy money in the bank, moving towards financial independence, enjoy delayed gratification.
As your income grows, save more & invest more. Like Einstein said, "Compound interest is the most powerful force in the universe".
Save 10-20% of your income – "Pay yourself" a salary from the money that comes in. 10-20% can be a lot, so instead, develop the habit of saving 1% of your income in a savings account. Discipline yourself to live on the other 99%, then each month, up your saving amount by 1%.
Develop the habit of living on less than you earn.
#1 rule: DON'T LOSE MONEY. Making money is like digging sand with a pin, spending money is like pouring water on to sand. Its easy to lose money, its hard to make it & keep it.
Pay cash & not on credit cards, it will make you realise how much you're spending instead of thinking as your credit card as an endless supply or as 'play money'.
If you cannot save money, the seeds of greatness are not within you
Discipline #7: Hard work
I may be less talented, or knowledgeable than anyone else, but I am willing to work harder than anyone else
60-70 hours per week work for around 10 years is the commonality for highly successful people. The harder you work, the 'luckier' you get.
Work ALL the time that you allocate to work. No idle activities, no sidetracking. When it is work time, you work all the time that you work!!
Start 1 hour earlier & get to work earlier, then leave work later. Work is not fun, have your fun later, enjoy your fun later as a reward after you've had a productive & empowering day's work.
Ask yourself – "what is the most valuable use of my time right now?" And get to it. Then just keep telling yourself, "back to work, back to work".
Discipline #8: Continuous Learning
The rule is: To earn more, you have to learn more. Jim Rohn said "Work at least as hard on yourself as you do on your work".
Read everyday – knowledge is power. Attend seminars & take courses where specialists in that field will shave years off of your learning curve.
To earn more, you have to learn more.
Discipline #9: Persistence
The greatest test of self discipline is when you persist in the face of adversity and you drive yourself forward to complete your tasks 100%
When you can drive yourself to keep on keeping on even when everyone around you feels like quitting, and you feel like quitting as well, but you keep on keeping on, is when you're on the path to passing the test.
Two Parts to Courage:

1. First is the courage to begin, to start, to launch in the face of failure with no guarantee of success
2. Second is the courage to endure, to persist, & to keep on going when you're tired, and you're disappointed, nothing's working, and there's no guarantee of success & maybe a very large likelihood of failure, but you still don't stop.
Your persistence is your measure of how much you believe in yourself & what you're doing. If you truly believe in yourself & what you're doing, you will continue to persist regardless of what's going on on the outside.
The more you believe, the more you persist – The more you persist the more you believe in yourself & the value of yourself. Persistence is self-discipline in action.
Think of your persistence like your measure of self-discipline.
Self discipline leads to self esteem, self esteem makes you feel greater about yourself which leads to greater persistence, which leads to greater self discipline, and you get on to an upward spiral of life.
Persistence is to the character of a man or a woman, as carbon is to steel. You make yourself, you shape yourself, you carve, form & build yourself in to a superior human being, a better & stronger person, when you persist when you feel like quitting. Persistence, persistence, persistence.
Always persist until you have completed the task. Persistence has a magical way of melting away resistance.
Eventually you develop the habit of persistence & you become unstoppable.
The 7 benefits of self-discipline:

1. Creating the habit of self discipline guarantees your success.
2. When you practice self-discipline you'll get more done, faster & better than others. It leads to higher levels of performance.
3. You'll earn more. The people with the highest self-discipline who get the results are the ones who move immediately to the front of the line in life.
4. You have a greater sense of self control, self reliance & personal power. You feel you can do anything you put your mind to because you have the ability to discipline yourself to do it anyway
5. It is the key to self esteem, self respect & personal pride. Everytime you discipline yourself you'll like yourself more, see yourself as a better person, feel great about yourself & feel personally proud of yourself. It affects your personality in a greatly positive way
6. Increase your self discipline, and you increase your self confidence. The lower your fears of failure & rejection will be. Eventually you develop bulletproof self confidence where you can walk through walls
7. With self discipline, you build a strength of character that will drive you to persist over any & all obstacles on your path until you succeed.
With self discipline, you achieve personal greatness.
Until next time boys & girls
KP